OCEAN LIFE SUPREME HEALTH

Coverage for IPD
Full coverage for inpatient hospitalization
Room, board, and hospital service fees up to 15,000 baht per day.
Comprehensive doctor fees, medical expenses and surgery fees.

Coverage for OPD
Outpatient medical expense up to 40,000 baht per year.
Comprehensive diagnosis by MRI and CT scan, Kidney dialysis, chemotherapy and targeted therapy.

Coverage Plans
Medical coverage up to 80 million baht per year*
Introduction of Insurance
Insurable Age
11 – 80 Years
Minimum Sum Assured
Coverage Plan
Plan Smart : 5 MB
Plan Silver : 10 MB
Plan Gold : 30 MB
Plan Diamond : 80 MB
Mode of Premium Payment
Annual, semiannual, quarterly and monthly
Health Checkup
According to the Company's rules
Tax Deduction
Premium is eligible for tax deduction of up to 25,000 Baht. Conditions are as specified by the Revenue Department.
Coverage and Benefit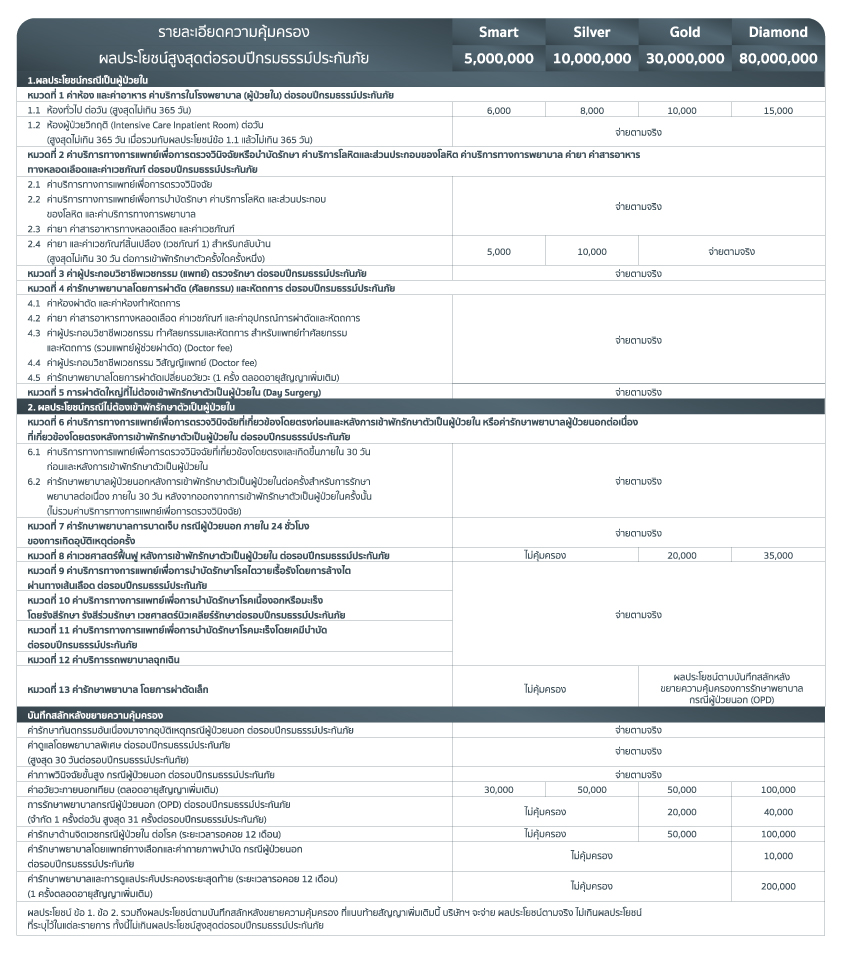 Conditions of Insurance
(1) Any illnesses which exist within 30 days counting from the effective date or the latest date of reinstatement of the rider, whichever is the latest; or
(2) Illnesses due to the following diseases which exist within 120 days counting from the effective date or the latest date of reinstatement of the rider, whichever is the latest.
- Tumors, cysts, or all types of malignancy/cancer
- All types of hernia
- Tonsillectomy or adenoidectomy
- Varicose vein - Hemorrhoid
- Pterygium or cataract
- All types of stone
- Endometriosis
The Exclusions contained herein are only some parts of all exclusions stated in the insurance policy. The Company shall not cover any loss or damages due to or a result of either of the following causes.
1. Result from congenital abnormalities or the organ system of the body is incomplete at birth or genetic disease or abnormalities in physical development, unless this Rider is effective for at least one year and symptoms appear after the insured attains the age of 16.
2. Cosmetic surgery or any other treatments for skin beauty purposes, pimple, blemish, and freckles treatment, dandruff and hair fall treatment, or weight control, or elective surgeries, unless it is a skin grafting arising from accident that the rider covers.
3. Pregnancy, miscarriage, abortion,childbirth, or any causes related to pregnancy, sterilization or investigation of sterilization except Choriocarcinoma.
4. Treatment or treatment of addiction to narcotics, tobacco, alcohol or psychotropic substances.
5. Suicide or suicide attempt, self-inflicted injury or attempt of self-inflicted injury whether being his/her own action or allow others to perform while insane or not. The exclusion also includes the accident occurred due to consuming, drinking or injection of toxic substances, or drug overdose.
Remark :
* In case of choosing Diamond plan of Supreme Health
- Ocean Life Supreme Health is marketing name of Supreme Health Rider
- Coverage Territory: Thailand only. However, the company provides protection outside the territory of Thailand in the case of injury from an accident and/or illness requiring emergency medical treatment that occurs within the first 90 days from the date of leaving the territory of Thailand and coverage for such medical treatment up to a maximum of 90 days from the date of departure.
- Underwriting is subject to the Company's terms and conditions.
- Benefits and coverage are subject to the health insurance policy's terms and conditions.
- The coverage term of Rider is 1 year. Rider can be renewed according to its terms and conditions. Renewed premium rate for Rider might be changed depend on an insured's age, occupation, claim of the insured and the company's terms and conditions.
- Health check up and health declaration might be the factor of underwriting process if necessary.
- Tax Deduction according to the rules prescribed by the Revenue Department - This is only basic information. An insured should read aware of coverage condition, benefits, and exclusios of an insurance policy.
Interested in purchasing insurance product ?
Check premiums or compare with our other insurance
Other recommended products