Daily Allowance Benefit 2 Rider (DAB2)

No Worries
Daily compensation benefit in case of hospitalization up to 4,500 Baht (IPD)*

ฺBe Happy
receive doubled daily compensation benefit**

Worry Free
Doubled Daily Compensation Benefit.**
Introduction of Insurance
Insurable Age
6 – 64 years (coverage period until the age of 70)
Minimum Sum Assured
Coverage Plan
(Plan Daily compensation benefit in case of hospitalization 500 / 1,000 / 1,500 / 2,000 / 2,500 / 3,000 / 3,500 / 4,000 / 4,500)
Mode of Premium Payment
Follow main Policy (Annual, semiannual, quarterly and monthly)
Health Checkup
According to the Company's rules
Coverage and Benefit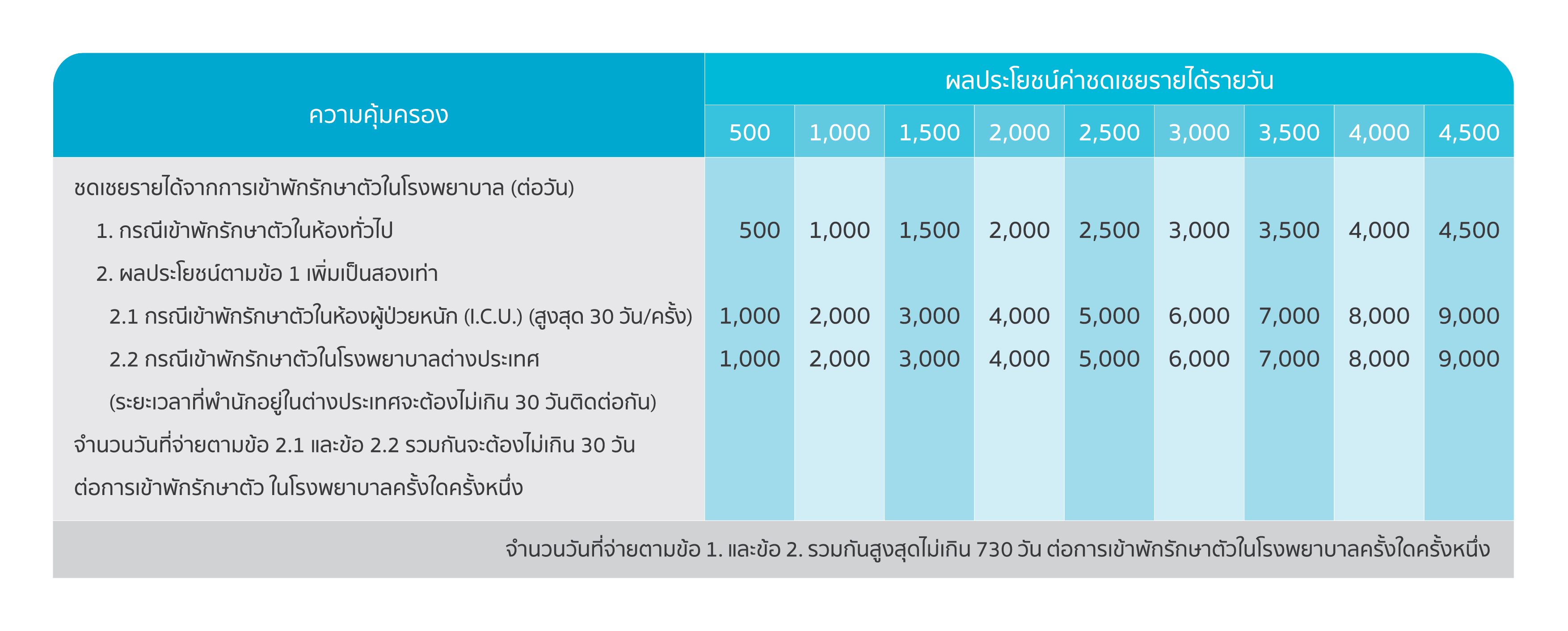 Conditions of Insurance
Any illnesses which exist within 30 days counting from the effective date or the latest date of reinstatement of the rider, whichever is the latest
The exclusions contained herein are only some parts of all exclusions stated in the insurance policy:
1. The injuries or illness which are occurring directly or indirectly or suffering totally or partially from
1.1. Congenital abnormalities, growth development abnormalities, or genetic disorder.
1.2. Any cosmetic surgery or beautification treatment including treatment of acne, freckles, dandruff, hair loss, weight reduction and weight gain.
Reconstructive surgery is also excluded unless injury is sustained as a result of an accident.
1.3. Services in connection with infertility, pregnancy, childbirth, abortion or miscarriage, or any causes related to pregnancy, sterilization or investigation of
sterilization.
1.4. Suicide or suicide attempt, self-inflicted injury or attempt of self-inflicted injury whether being his/her own action or allow others to perform while insane
or not. The exclusion also includes the accident occurred due to consuming, drinking or injection of toxic substances, or drug overdose.
1.5. The injuries occurring from any acts of the insured under the influence of alcohol, narcotics or addictive substances to the extent of losing control. The
term "under the influence of alcohol" shall mean the level of alcohol at and above 150 milligrams percent if a blood test is conducted.
1.6. Injuries which are occurring while theinsured is taking part in a brawl or provoke to begin a brawl.
2. Pre-existing condition.
3. Any illness occur within 30 days from the first policy commencement date or the last reinstatement date up to the last event, etc.
Remark :
*For DAB2, Coverage for Patient Room 4,500 Baht per day
**Daily Compensation Benefit according to selected plan
- The coverage term of Rider is 1 year. Rider can be renewed according to its terms and conditions. Renewed premium rate for Rider might be changed or co-payment, depend on an insured's age, occupation, claim of the insured and the company's terms and conditions
- Benefits and coverage are subject to the health insurance policy's terms and conditions.
- Underwriting is subject to the Company's terms and conditions.
- Health check up and health declaration might be the factor of underwriting process if necessary.
- Tax Deduction according to the rules prescribed by the Revenue Department
- This is only basic information. An insured should read aware of coverage condition, benefits, and exclusions of an insurance policy.
Interested in purchasing insurance product ?
Check premiums or compare with our other insurance