Health Kids Rider

Coverage for medical expenses
coverage for medical expenses for inpatient in case of illness, surgery and accident

No advance payment
No advance payment in case of hospitalization.*

Coverage OPD
Coverage medical expenses (OPD) Maximum 20,000 Baht / year**
Introduction of Insurance
Insurable Age
30 Days – 10 years coverage period until the age of 20
Minimum Sum Assured
Coverage Plan
Plan 1 : 500,000 Baht
Plan 2 : 1,000,000 Baht
Plan 3 : 2,000,000 Baht
Mode of Premium Payment
Annually
Health Checkup
According to the Company's rules
Tax Deduction
Premium is eligible for tax deduction of up to 25,000 Baht. Conditions are as specified by the Revenue Department.
"สบายใจเรื่องค่ารักษาเมื่อลูกรักเจ็บป่วย หรือบาดเจ็บจากอุบัติเหตุ ปกป้องทุกก้าวของลูกรักให้เติบโตอย่างสบายใจ
หมดห่วง! เมื่อเจอโรคภัย เพราะปกป้องลูกรักด้วย"
สัญญาเพิ่มเติมคุ้มครองสุขภาพสำหรับเด็ก (Health Kids)
ประกันสุขภาพสำหรับเด็ก
ประกันสุขภาพเหมาจ่ายสำหรับเด็กที่ให้ความคุ้มครองครบทั้งผู้ป่วยในและผู้ป่วยนอก**
Coverage and Benefit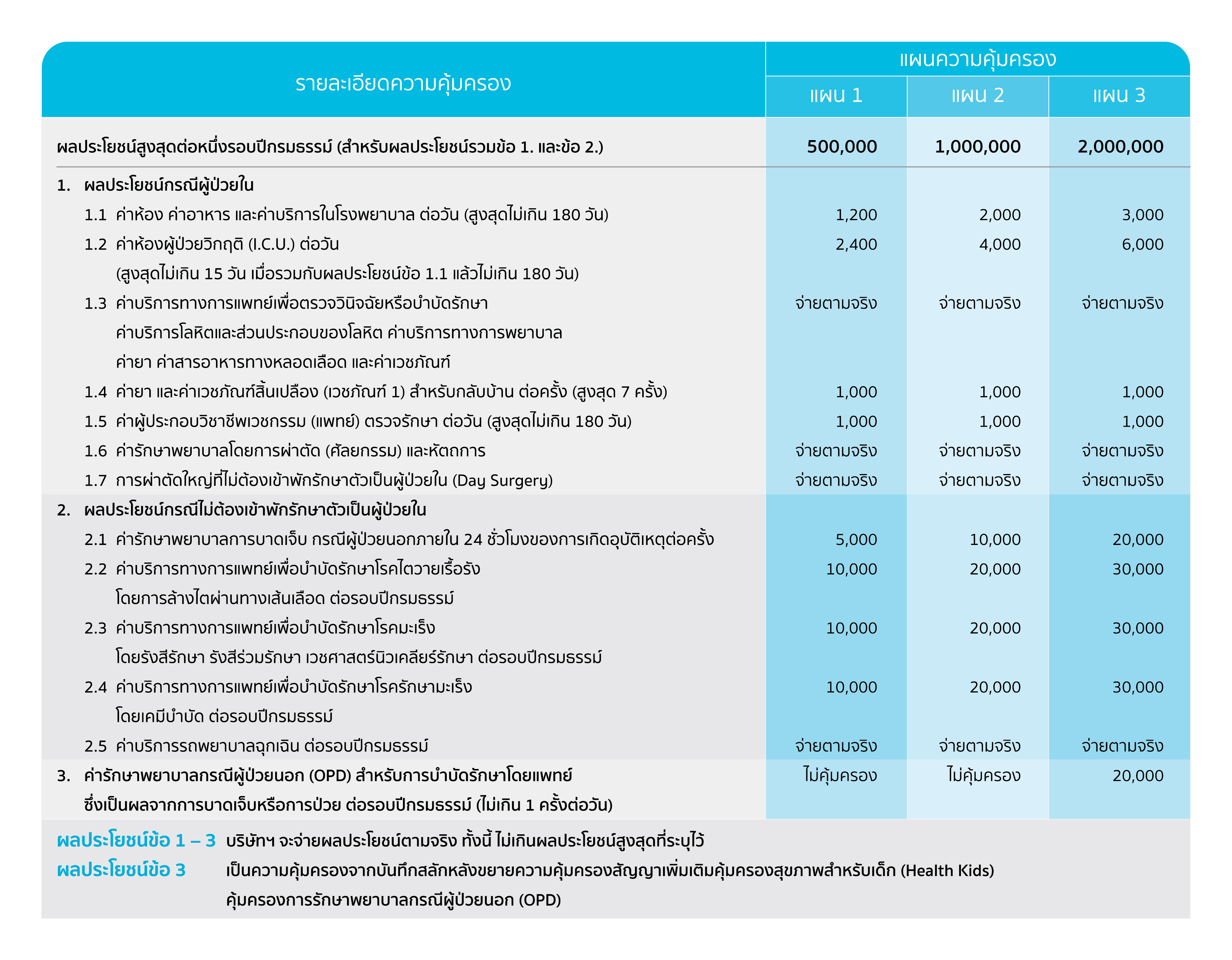 Conditions of Insurance
(1) Any illnesses which exist within 30 days counting from the effective date or the latest date of reinstatement of the rider, whichever is the latest; or
(2) Illnesses due to the following diseases which exist within 120 days counting from the effective date or the latest date of reinstatement of the rider, whichever is the latest.
- Tumors, cysts, or all types of malignancy/cancer
- All types of hernia
- Tonsillectomy or adenoidectomy
- Varicose vein
- Hemorrhoid
- Pterygium or cataract
- All types of stone
- Endometriosis
The Exclusions contained herein are only some parts of all exclusions stated in the insurance policy. The Company shall not cover any loss or damages due to or a result of either of the following causes.
1. Result from congenital abnormalities or the organ system of the body is incomplete at birth or genetic disease or abnormalities in physical development, unless this Rider is effective for at least one year and symptoms appear after the insured attains the age of 16.
2. Treatment for symptoms or diseases related to mental disorders, psychiatric disorders, personality disorder including attention deficit hyperactivity, autism, stress, eating disorders or anxiety. 3. Inoculation or vaccination except rabies vaccination after being attacked by an animal and tetanus vaccine after injury.
4. Diagnosis and treatment other than conventional medicine, including alternative medicine.
5. Medicines, treatments or diagnostic tests that are not related to the diagnosis, symptom or condition specified in the medical certificate.
6. Automated Implantable Cardioverter Defibrillator, Defibrillator or Pacemaker
7. Prosthetic organs such as prosthetic arms, prosthetic legs, prosthetic eyes.
8. Medical Supplies 2 for external use such as medical equipment, hearing aids, respirator, wheelchair, etc.
Remark :
* Network Hospital is subject to the Company's conditions.
** For Plan 3 Coverage from endorsement of Health Kids Rider and Coverage for out-patient medical expenses
- The coverage term of Rider is 1 year. Rider can be renewed according to its terms and conditions. Renewed premium rate for Rider might be changed or co-payment, depend on an insured's age, occupation, claim of the insured and the company's terms and conditions
- Benefits and coverage are subject to the health insurance policy's terms and conditions.
- Underwriting is subject to the Company's terms and conditions.
- Health check up and health declaration might be the factor of underwriting process if necessary.
- Tax Deduction according to the rules prescribed by the Revenue Department
- This is only basic information. An insured should read aware of coverage condition, benefits, and exclusions of an insurance policy.
Interested in purchasing insurance product ?
Check premiums or compare with our other insurance